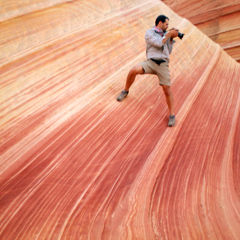 Elias' parents were math teachers. This provided for two things: a square mind and two months in nature every year throughout his childhood. He grew up to love problem solving and adventure. He inherited the photography gene from his dad, Kostas, who was an amateur photographer himself.
As a student he built two darkroms at home. He has since taken the digital leap, but still wishes he had more time for film. auhopu.com started as a way to share travel photos with friends ...and a secret hope that fish-logoed t-shirt sales would sponsor a trip to Antarctica before it melts.
He is married to Sara. Now they travel, photograph, yoga, climb, bike and bake together. His latest hobby is improvising songs, building things and playing puppets with his daughter Anatoli. And Iris soon.
Contact: